6th Budapest Architecture Film Days
6 – 9th March 2014 / Toldi cinema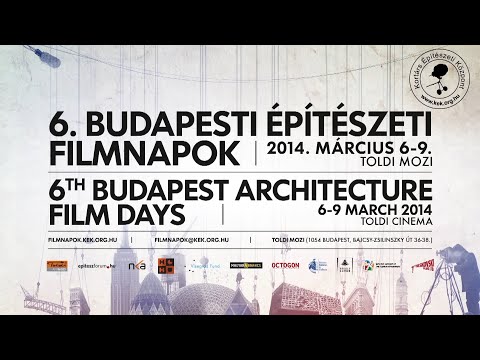 This March the Hungarian Contemporary Architecture Center (KÉK) is organizing the 6th Budapest Architecture Film Days. This edition opens a whole new chapter in the life of the festival: our four day event has received a lot stronger professional support than before and is being accompanied by a growing international attention. We have participated at the most important architecture film festivals for the past couple of years, and organized screenings from Paris to Vienna, Brno, Warsaw, Krakow and Kiev. Now our hard work seems to pay off: this year's Call for entries attracted more than a hundred films from all around the globe. We will present the best of them between 6-9. March in Budapest. Do you live in a building? Do you like movies? Then please feel welcome at the festival on the first weekend of March!
The Film Days' opening film on 6 March will be 16 acres showing the twists and turns of reconstruction of Ground Zero in New York, after screening the Chief Architect of Budapest will stand behind the DJ booth. Those interested in the built environment will have the chance to see films on the following days focusing on different fields of architecture, design and urbanism from unusual perspectives. Besides the dilemmas of architecture and city planning, the festival will bring up subjects such as old and new media of architecture, architectural photography, 3D printing, unequalities of city development in the 21st century, unsustainable development strategies and tourism, unusual communities, the reminiscence of modern architecture, the future of avant-garde buildings. As usually, all this is told through deep and exciting, often tragic or inspirational human stories, that make the visiting of the festival worthwhile. The screenings will be followed by discussions with invited filmmakers, so that audience could engage with the films' subject and get a creative insight into the making of the films.
The Film Days' programs are not limited to the cinemas's screening rooms this year either:  in the lobby the works of three architectural photographers – Zsolt Batár, Tamás Bujnovszky and Illés Sarkantyú – are presented as part of the exhibition Under construction. Following the success of last year's event, we offer a variety of programs in the city: the downtown movie walk brings the relation of films and the city closer, Vacancy Project Space in Kossuth Lajos Street will screen a selection of short films for two days.
Organizers: Daniella Huszár, Levente Polyák, Noémi Soltész, Gábor Fehér
Design: István Csekk
16 acres | Lucien Hervé: photographer despite himself | Mediating mediums | The man who prints houses | Space Metropoliz | Storyboard architecture by Jord den Hollander | Megalomania | Agoraphobia | Sukkah city | Nakagin Capsule Tower: Japanese metabolist landmark on the edge of destruction | Intercalary spaces | The mother, the son and the architect | Precise poetry: Lina Bo Bardi's architecture | Bata-ville: We are not afraid of the future | What remains | The Venice syndrome | Modular space | Pollphail | Away from all suns! | Hometown Mutonia | They | Man and his city | Overdrive: Istanbul in the New Millennium | Unconventional portraits of buildings | Sensible architecture